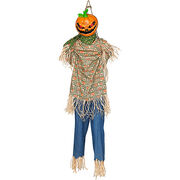 This Scarecrow hangs easily and brings out the scare to surprise your guests or trick-or-treaters. Animated, he kicks around to give your Halloween decorations an extra "creep" factor! *Life-sized Scarecrow figure
Legs kick around
Eyes glow red
Hangs up easily
A creepy addition to any Halloween decor
Speaks the following phrases:
1. "We have been waiting for you."
2. "Yes, come closer. Come right up this way."
3. "At last, I've waited so long for this moment."
4. "I'd turn back if I were you."
5. "Ah, yes. The master will love you. Right this way."
6. "Strange things come out on Halloween... like me!"
7. "Do you dare approach? You could get a treat.. or a trick!"
8. "I'd warn you to stay away.. but I want to see what happens."

Available at:
Menards,
Wal-Mart
Made by: Gemmy