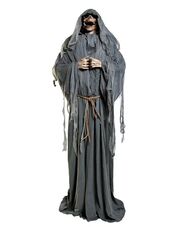 The Animated Ripping Reapers of Souls stands over six feet tall to terrorize even the bravest of souls. The Reaper wears a tattered long gray hooded robe that his bony hands rip open to reveal the faces of lost souls; each soul has light-up red eyes.
Uses 6V 2.0 adapter
Head, hands and chest made of latex
The sound activated Reaper has light-up red eyes and his mouth moves as he incants three scary sayings.

Available at:
Spirit Halloween
Made by: YJ brand